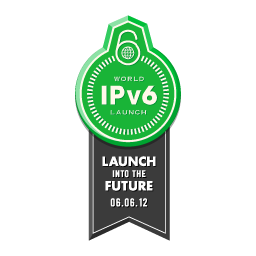 Back in the 3rd of December 2009, I wrote about how to connect to next-gen Internet, if you haven't read it, it was about IPv6 or Internet Protocol version 6.
IPv6 is the answer to our IPv4 problem – we ran out of IP addresses to give last year, in 2011! With more ISPs, businesses, and even individuals needing IP addresses to deploy their products, there is no stopping the growth of the Internet and the high demand for more IP addresses.
But with IPv4 depleted already, where do we get more IP addresses? Nothing left. Zero. What do you expect from IPv4 when it can only give 232 IP addresses? That translates to 4,294,967,296 IPv4 addresses only. The answer is IPv6 and it's launching this year, are you ready?
Last year, on the 8th of June 2011 was the World IPv6 Day where concerned netizens tested IPv6 deployment on a global scale. It was very successful and it gave us the proof that the world will not blow-up to smithereens.
This year, the 6th of June 2012 has been marked as the World IPv6 launch day. On this day, all companies, services, ISPs, and web hosts who have taken the time and effort to prepare for it will switch on IPv6 permanently. Countless of websites will be accessible via IPv6 and many more for sure, will turn-off their IPv4 and instead rely on tunneling those still stuck in IPv4 as a way of showing support and the need to migrate. And you must, because eventually, IPv4 addresses will be turned-off in the not-so-far future.
Just how many IP addresses can IPv6 provide anyway? What if we ran out again? There are 2128 addresses or if you can read this: 340,282,366,920,938,463,463,374,607,431,768,211,456 IPv6 addresses. We can literally connect and assign a unique IPv6 address to every device in the world today and we are still not scratching the surface of 128-bit addresses, which is IPv6 (IPv4 is only 32-bit).
So go ahead, if you have the money, get a dedicated IPv6 address, in fact if you ask me, we deserve to have 2 free IPv6 from our ISPs. And speaking of ISPs, it's high time that you tell them to upgrade and support this migration. Tell them you want a real/native IPv6 service and not some tunnel. For no extra cost! It's mandatory, not an extra service.
But if like me, your ISP is still not yet ready to deploy native IPv6, then you can temporarily use a tunnel. For my Philippine readers, you can get a Philippine-IPv6 tunnel address via Globe Telecoms. Simply follow How-To Get A Philippine IPv6 Address I wrote last year on 6th of June. While for my international readers, if you are a Linux user you can follow this post and get your tunnel working.
For the majority of end-users, you shouldn't notice anything. If you do (like slow downs) and you read in online forums that the "solution" is to turn-off your OS or browser's IPv6 – do not do that. One day, for sure you have forgotten about it, and you'll end up not having a connection because your ISP probably switched you over to native IPv6. IPv6 is here to stay, the real solution to the dual-stack problem (that causes the slowness) is to switch to IPv6, ditch IPv4 – not the other way around.
Enjoy and always remember, there's no place like [::1].
---
Official launch website: worldipv6launch.org
IPv6 Test sites: test-ipv6.com & ipv6-test.com
* IPv6 Launch logo by worldipv6launch.org is licensed under Creative Commons Attribution 3.0 Unported.
Is a bibliophile and technophile other than being an early adopter, an avid gamer, anime otaku, trekker, and photographer. He is an advocate of "Free Culture", "Open Knowledge", "Creative Commons", "Free/Libre Open-Source Software", and the "Fediverse" (federated social-network).
His first online project was in 1998 when he launched the unofficial website for Ansalon MUD (a text-based online game) and his own community forums Laibcoms.Community. Today, he owns a variety of online properties and help others establish their online presence.
Confirm his identity through Keybase, and learn more by reading his central bio. Yuki's hubsite, Tomes of Knowledge, is located at jcsesecuneta.com.
World IPv6 Launch Day Set – 6th of June 2012 #v6launch by ᜌᜓᜃᜒ (Yuki|雪亮) is licensed under a Creative Commons Attribution-ShareAlike 4.0 International License. Permissions beyond the scope of this license may be available at Legal Notice.